Dealing With Water Damage [Infographic]
Posted on: Wednesday June 1, 2022 at 1:28 PM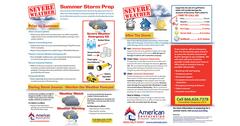 Summer Storm Prep
Summer storms have the potential to do much damage to your home or office, from loose shingles to structural damage. We want your summer to be fun-filled and worry-free, so we've compiled a list of safety tips on how to prepare.
Prior to Summer
Clean out your gutters
If leaves and debris aren't removed, water can collect around the edges of your house and leak into the foundation, causing a much greater problem.
Inspect surrounding trees
Inspect trees which can cause substantial damage if they fall on your home or property.
Keep all trees properly trimmed by hiring an ISA Certified Arborist.
Prepare a Severe Weather Emergency Kit
Have flashlights, bottled water, and nonperishable food on hand just in case the power goes out or roads are blocked.
Review Insurance Policies
Make sure that your insurance is up to date, and take detailed inventory accompanied by photos and videos of your personal property. If damage does occur, you'll have a full list of possessions you had before the storm.
Designate Shelter
Most importantly, know where to seek shelter in the event of a tornado, hurricane, or flood warning.
During Storm Season - Monitor the Weather Forecast
Weather Watch
A watch means conditions are right for dangerous weather. In other words, a "watch" means watch out for what the weather could do and be ready to act.
If a Watch is in effect:
Secure all lawn decorations, garbage cans, and any other items that could be blown away.
Weather Warning
A warning means that the dangerous weather is threatening the area. For severe thunderstorms, tornadoes, and flash floods, a warning means the event is occurring.
If a Warning is in effect:
Stay inside your home or office
Stay away from windows
Unplug all non-essential electronics
Call (704) 482-7586 for 24/7 immediate response!
After The Storm
Even if you take the proper precautions, storms could still result in damage. If your home, office, or property suffers damage due to a storm, know who to call.
Hail
Large hail, the size of a golf ball or better, will usually damage the structure of the home. With this type of damage, it is best to call a restoration company.
Fallen Trees
If a large tree or limb falls on your home or office and punctures the roof or damages the structure, give us a call. We can provide temporary structural support and roof tarping while working to rebuild the structure and mitigate any water damage that has occurred.
Water
If water damage occurs in your home due to damage from a storm, i.e., fallen trees or damaged roof, call a restoration company to help mitigate water damage while working with your insurance company. However, water damage from groundwater (flooding) is usually not covered without a flood policy. While a restoration company can certainly clean up and restore the damaged property, the owner most often bears the expense.
Roof & Siding
If a few shingles, a piece of siding, or metal trim have been blown off your home or office, it is best to call a roofer who can easily repair the damage.
If you need us, call our emergency line. Our first priority upon arrival is to assess the situation and prevent further damage to your property. We will work with your insurance provider to help return your home or office back to normal as soon as possible. We provide:
Board up and roof tarping
Temporary power
Structural support
Complete structural content and restoration
Emergency housing assistance
Debris removal
Cosmetic renovations
For more information on preparing for a summer storm, visit www.amrest.com/blog.