Prepare Your Home for Autumn with These 3 Steps
Posted on: Wednesday August 1, 2018 at 4:35 PM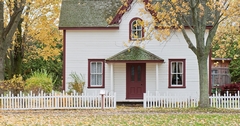 As we transition from summer to autumn, now is the time to make sure you and your home are prepared to face the changes. Getting a jumpstart on these tasks – and completing them before it's completely cold – will help you to enjoy a cozy and (hopefully!) stress-free season. Here are three valuable projects to check off your to-do list:
1. Clean the gutters.
Start the season off with freshly cleaned gutters – as leaves begin to fall, you may find yourself needing to tackle this task more frequently, so it's nice to have a head start. It's certainly not the most fun chore, but it's an important one: clogged gutters can lead to water damage and mold growth inside your home. While you're up there, take a good look at your roof. Make sure there are no bent or broken shingles, and that the flashing is in good shape.
2. Have your chimney professionally cleaned.
Heating is the second leading cause of U.S. home fires. Improper use of wood-burning stoves and fireplaces can spell disaster, so it's important to follow the rules when using wood heat. Calling a chimney sweep now will help you be prepared when cold weather finally strikes.
3. Insulate your pipes.
As the temperature drops, the threat of freezing and bursting pipes rises. Take this opportunity to make sure that your pipes are well insulated, so that you won't have to worry when winter finally sets in. If you haven't yet located your water shut-off valve, now is the time to find it—and make sure everyone in your household can find it, too.
Once the hard work is done, we recommend settling in with a big cup of hot chocolate. It's important to always be prepared for disaster, but in some cases, disaster is unavoidable. If you find yourself in need of assistance, contact us at (704) 482-7586. Our crew is available 24/7 for disaster-related emergencies.